• art frame • chalk board • cork • custom frame • dry erase • map • mirror • picture frame • portrait frame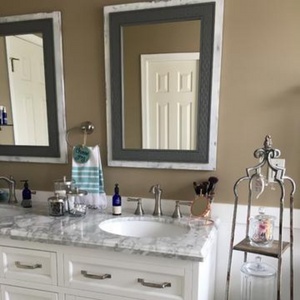 We love a multi-purpose item. Who doesn't? Heck, we're still looking for the appliance that does our grocery shopping and cooks all the meals for us. A girl can dream. Ha. In the meantime, we can introduce you to ALL THE MANY WAYS one can use a Delta Girl Frame. Yes, we help you house more than just your most prized photos. Check out the 8 uses below and comment with your favorite! 8 Possible uses for Delta Girl Frames 1. The OG: Photo It's what we're known for and the most obvious use of our Delta Girl products. We love...
---
• about us • frame • hand made • our frames • picture frame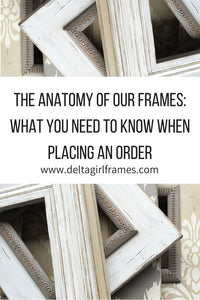 We talk about our frames all the time, all day long and we still have to double check ourselves from time to time.  So we know you might get confused from time to time when placing orders.  We strive to make ordering simple for you all and create great combos that you can order as is-but should your creative juices feel a need, a need for speed, then we want you get exactly what you want! Lets discuss the anatomy of our frames! When you place an order, you'll be asked about the size, base color, pattern, pattern color, trim,...
---
• Canvas • chalkboard • cork board • frame • picture frame • pictureframe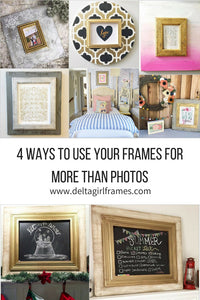 Around Delta Girl Frames, we love taking art, reinventing style and being purposeful with our designs. We're HUGE fans of the mix and match style. Getting creative is what makes us tick. Giving our frames more than one purpose and allowing them to serve your homes and your lives to meet YOUR needs is our love. While we're talking, have you checked out our Instagram hashtag #shareyourdeltagirl just yet? Show everyone the creative ways that you make Delta Girl work in your homes to suit your style and the way you live! We wanted to share a couple of super...